OC Shootings: Construction Foreman "Started Running and Got Lucky"
The gunman behind a series of OC shooting deaths and carjackings mentioned the drug industry before Shane Caporaso "heard him chamber a round"


By Jonathan Lloyd and Toni Guinyard
| Wednesday, Feb 20, 2013 | Updated 4:01 PM PST


A foreman describes his encounter with the gunman who shot and killed three people in Orange County before shooting himself in Orange. Shane Caporaso said the Ali Syed talked about the drug industry and told him to walk away. Raw video from Feb. 20, 2013.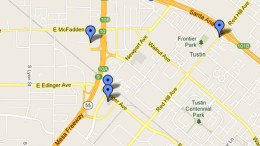 A deadly shooting spree that started in a Ladera Ranch home ended in the city of Orange when police say suspected gunman Ali Syed turned the gun on himself. Investigators are continuing to search for a motive in the rampage, which left four people dead. Vikki Vargas reports from Ladera Ranch for the NBC4 News at 6 p.m. on Feb. 19, 2013.



Investigators are attempting to piece together the events -- including a series of carjackings -- that led to the deaths of four people Tuesday morning in Orange County. Annette Arreola and Vikki Vargas report for the NBC4 News at Noon on Tuesday Feb. 19, 2013.
Shane Caporaso was working at a hotel construction site Tuesday morning when he came face to face with a gunman who had already shot and killed three people in a series of crimes that stretched from Ladera Ranch to the Tustin area.

Caporaso, the plumbing project foreman at the site, was is his truck when he received a call that a co-worker had been shot near Edinger Avenue and the 55 Freeway, just across the street from the work site. He ran toward the location, where he saw his co-worker on the ground and Ali Syed holding a gun.

"I heard him chamber a round in the shotgun," Caporaso said. "I knew I had X amount of time to run.

"I kind of knew he was going to shoot me. I just started running and got lucky."

Caporaso suffered a gunshot wound to the arm. His co-worker, 27-year-old Fullerton resident Jeremy Lewis, was pronounced dead at the scene.

The shooting death was part of a rampage Tuesday morning that began at a Ladera Ranch house and ended in Orange when Syed, 20, shot himself at an intersection.

Map: Shooting Locations | Video: Victims Were On Way to Work

Authorities have identified the woman found dead early Tuesday in the Ladera Ranch home at which Syed lived with his parents. The woman in her 20s was not a relative of Syed, investigators said Tuesday.

Her identity was released as a Wednesday afternoon news conference as Courtney Aoki, 20.

Syed left the residence in his parents' black sport utility vehicle before a series of carjackings near the 5 and 55 Freeways in the Tustin area. Syed shot and killed a driver in what authorities described as an execution on a freeway exit ramp before driving the victim's vehicle to the Edinger Avenue exit, where he encountered Lewis and Caparaso outside a Micro Center electronics store.

"He told me to take 30 steps and walk away," Caporaso said. "He said, 'This was a result of of the drug industry, the narcotics industry,' and that it didn't matter because he'd be dead n 20 minutes. I I don't know what was going through his head.

"I just started running and got lucky."

Syed discharged the shotgun twice, striking him once in the arm, Caporaso said.Two co-workers called police to provide the gunman's location.

"This isn't about me -- I'm ok," he said. "I had a friend who didn't make it."

Caporaso described Lewis as always smiling and joking. They worked together for about one year.

"Everybody's missing Jeremy," Caporaso said.

Syed also opened fire at vehicle on the 55 Freeway with a shotgun. At least three drivers reported injuries.

The rampage came to an end in Orange, where Syed -- who has no criminal record -- got out of a stolen vehicle and shot himself in the head, police said
.