Forced abortion probed amid outrage
Images of forced late-term abortion in Shaanxi shock China [Warning: Graphic!]
Updated: 2012-06-14 21:54
XI'AN - Authorities in Northwest China's Shaanxi province have launched an investigation into an instance of forced abortion, pledging that anyone found responsible will be punished according to relevant laws and regulations.
Feng Jianmei, 27, was forced to terminate her pregnancy at seven months in a hospital in Zhenping county on June 2. Details of the case, including several photos showing the remains of the fetus lying next to the mother on her hospital bed, were posted on online forums and have since shocked and angered many nationwide.
Feng Jianmei and her aborted baby.
"It is brutal to end a new life that will soon come into the world. It breaks my heart to see such a thing," netizen "Fen Hong Shan Hu Hai" said in a post on Sina's Weibo.com, the country's largest microblogging website.
Many netizens described the case as outrageous and tragic. However, it has yet to be confirmed if the photos are genuine, and the photographer has yet to be identified.
The Shaanxi Provincial Population and Family Planning Commission, which oversees the family planning work in the province, announced Thursday it has dispatched an investigatory team to Zhenping and ordered the local government to punish any officials who are found to be responsible for the forced abortion.
"What the authorities did in Zhenping represents a serious violation of national and provincial policies and regulations on population and family planning, has undermined the reputation of our work and negatively impacted society," the commission said.
The commission said most of the descriptions of Feng's case found in online posts were factual. But investigators are still looking into allegations that Feng was illegally detained before the abortion was performed.
Authorities in Zhenping said Feng consented to the abortion, adding that Feng was not legally entitled to have a second child. Feng previously gave birth to a girl in 2007.
"Feng is not entitled to have a second child, according to policies on family planning. Therefore, local officials brought her to the hospital to receive the abortion," Su Huaichun, a publicity official in Zhenping, said Thursday.
However,
Feng's abortion took place late in her pregnancy, a practice that is prohibited by China's laws on population and family planning.
"According to law, mothers who are not entitled to have a second baby are indeed required to terminate their pregnancy at an early stage," an anonymous official with the Shaanxi Provincial Population and Family Planning Commission said Thursday.
"But in Feng's case, she was in the late phase of her pregnancy and an abortion could cause physical injury to her. The correct way to deal with the case would have been for local officials to allow her to deliver the baby first, and then mete out punishment according to regulations," the official said.
"We have ordered local governments in Shaanxi to prevent such things from happening again," he said.
While rural residents and ethnic minorities are permitted to have more than one child, urban residents like Feng are limited to a single child, according to family planning policies introduced in the 1970s to rein in China's surging population.
Local officials and doctors insisted that the abortion was carried out with Feng's consent, a claim that Feng and her family have denied, according
to a report in the Thursday edition of the Huangshangbao Daily, an influential newspaper in Shaanxi.
Deng Jiyuan, Feng's husband, told the newspaper that the forced abortion took place because the family refused to pay a deposit of 40,000 yuan ($6,349) to the township government.
"I don't know what the deposit was for," Deng said.
Yuan Fang, a population and family planning official from the township government, said Feng's urban "hukou," or household registration permit, prevents her from having more than one child.
"She would need to transfer her 'hukou' to our township first before having the baby. The money was charged as a deposit for the transfer and would have been paid back if her family had done so," Yuan said.
Last year,
relatives of a 37-year-old woman said she died after she was forced to have a late-term abortion
in eastern Shandong province. A statement on the Lijin government website said Ma Jihong died in a "labour-inducing operation", and it was investigating the case, vowing to punish any officials found guilty of professional misconduct. But as of earlier this year no investigation results had been announced and Lijin officials did not respond to queries on Thursday.
I can not guarantee this photo as that of
Feng Jianmei
China forced-abortion woman suffering state harassment, lawyer says
Family of Feng Jianmei attacked as 'traitors' for talking to foreigners after late termination sparked outrage on microblogs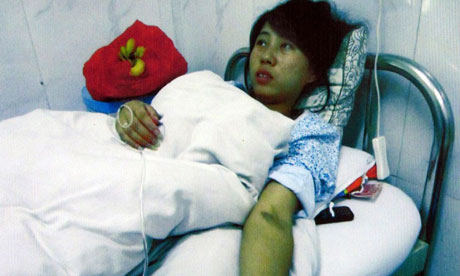 The family of a woman whose forced late-term
abortion
caused outrage in
China
have been attacked as "traitors" for discussing her plight with foreigners, while her husband has not been seen for two days, according to a a relative and a lawyer.
Authorities in Ankang, in Shaanxi province, last week apologised to the couple and said they had
suspended three local officials
after the publication of a photograph showing Feng Jianmei with the bloodied body of her seven-month-old foetus sparked outrage on microblogs.
Relatives say they have been followed for days, and Feng's hospital was targeted this weekend by protesters carrying banners, one of which read: "Beat the traitors and expel them."
Feng's husband, Deng Jiyuan, has not been seen for two days. His sister Deng Jicai told the Guardian he rang on Tuesday afternoon to say that he was safe, but she did not know his whereabouts.
"The whole family feels very depressed and pressured," she said. "The government have sent a team to investigate and don't have a result yet, but right now we want freedom before the investigation results come out.
"Three or four guys are following me. I don't know who they are."
Earlier, she told the South China Morning Post the protesters at the hospital this weekend had "shouted and shouted, saying we were ungrateful and traitors since the government had promised to solve this matter but we still talked to foreign media ... My cousin, who took pictures of them, was injured, with bruises and scratches all over his body."
Zhang Kai, a lawyer who has been advising the family, added: "It is impossible the villagers made the banner about Deng Jicai. It must have been orchestrated by local officials."
He said that higher levels of government had handled the matter correctly by launching an investigation but noted:
"Things seem to be getting worse for the family, as some local officials have to take responsibility for this incident, and it will be criminal responsibility. They are panicking."
Supporters also believe local officials may be behind a large number of online attacks on the family and smears about them.
Zhang said a relative who visited Feng on Tuesday found her tyres had been slashed when she returned to the hospital car park.
Forced abortions in China are illegal, but critics say they are carried out because of the pressure on officials to meet strict birth-control targets.
Feng said she was coerced into the abortion. Her husband added that she had been hooded, abducted and forcibly injected to induce the abortion because they were unable to pay a 40,000-yuan fine for breaking birth-control rules. Local officials said at the time that Feng had agreed "after repeated persuasion".
Officials in Zhenping county and Ankang did not answer calls on Tuesday.
Asked whether officials would investigate claims of harassment of the family, a spokesman for Shaanxi provincial government, who gave his name only as Mr Jia, said: "I don't know where you got that information. I have not heard of that. You said you had heard it – how did you hear it? The government is doing the investigation. We have announced everything on our website. You should check our website rather than following rumours."
A spokesman for the National Population and Family Planning Committee said its investigation was continuing.
Chinese officials agree payout for family of woman forced to have abortion
Husband of Feng Jianmei, who had planned legal action, says government has agreed to pay family 70,600 yuan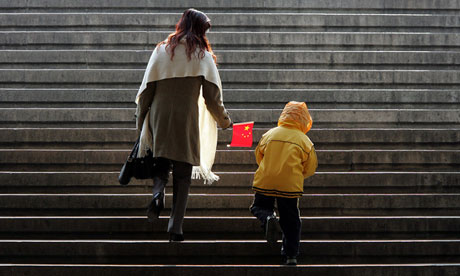 Chinese officials have agreed a 70,600 yuan (£7,160) deal with the family of a woman who was
forced to undergo a late-term abortion
because they could not afford to pay a fine for breaking the country's strict birth control policies.
The case in Ankang, in Shaanxi province, caused widespread outrage after a photo of Feng Jianmei lying alongside her seven-month-old foetus was published online.
Feng's husband, Deng Jiyuan, had
previously planned legal action
, but told the Associated Press on Wednesday that the government had agreed to pay the family 70,600 yuan. He said his family wanted to return to a normal life.
Forced abortions are illegal in
China
, but the family
came under intense pressure after speaking out
. Relatives said they were followed,
harassed and denounced as traitors
for speaking to foreign media.
Authorities in Ankang later said they had
fired two officials
over the case and given five more formal warnings.
Deng said his wife had been hooded, forced into a car and forcibly injected to induce the
abortion
because they could not afford the 40,000 yuan fine for having a second child.
Asked if the family were satisfied with the deal, his sister Deng Jicai told the Guardian: "It can only be like this. Not everything can be measured in money."
Zhang Kai, a lawyer who has been advising the family, said the government had described the payment as an allowance, when it should have been compensation.
He added: "70,000 for a person's life? It is too little."
The case has helped to fuel a wider debate about China's one-child policy. Government researchers and other experts have
urged authorities
to ease the restrictions.