Obama Elected By American High Schoolers In Nationwide Mock Election
Posted: 11/05/2012 5:16 pm EST Updated: 11/05/2012 5:28 pm EST America's high school students have spoken to re-elect President Barack Obama for a second term.

According to a nationwide mock election for 54,000 high schoolers across 130 schools, Obama won the popular vote with 52.2 percent and Republican candidate Mitt Romney received 41.2 percent of the vote. That translates to 316 electoral votes for Obama and 208 for Romney. Five schools in New Jersey, New York and Pennsylvania were unable to hold elections because of Superstorm Sandy, so 14 electoral votes went undistributed.

The election is part of the VOTES (Voting Opportunities for Teenagers in Every State) Project that was started in 1988 by two Northfield Mount Hermon high school history teachers in Massachusetts. The mock election is considered the largest nationwide of high school students and has correctly predicted the winner in five of the last six presidential elections: students incorrectly elected Sen. John Kerry over incumbent President George W. Bush in 2004.

Organizers say the project has been so accurate because students tend to reflect their parents' political preferences. At least two schools, both public and private, from each of the 50 states and the District of Columbia take part in the mock election.

n
The VOTES election is in line with polling predictions, as polls from battleground states like Virginia
are indicating an Obama victory that pushes electoral college votes over 300.

Jim Shea, Northfield Mount Hermon teacher and VOTES Project co-founder, told the Denver Post that while some schools were picked at random, others were selected for various reasons -- like Wyoming's Tongue River High School that was invited to take part simply because Shea liked the name.

"The purpose is not to predict the outcome and guess who's going to win. It's really educational to generate interest within each of the schools, to let them feel bigger than their own popular vote in a mock election," Shea told the Post. "It's not scientific, and we don't pretend it is. But I do think the kids are pretty savvy. They vote based on t he way things are going on a national level. They mirror society as a whole."

As part of the project, students at participating high schools campaigned on behalf of Obama and Romney, as well as third-party candidates. Libertarian Gary Johnson received 4.1 percent of the popular vote. Students also held rallies, debates and campaign events in the weeks leading up to the mock election.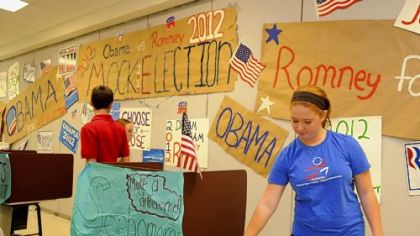 The VOTES project also encourages political activism among students, organizers say, who will be
key youth voters
in 2016. This is evidenced by the 80 percent voter turnout among students from participating schools, nearly twice the average turnout in national elections.

"The level of engagement has never been greater, affirming VOTES as not only a powerful learning experience for high school kids but as an opportunity to create a deeper understanding and respect for the democratic process," Shea said in a statement Monday. "We value everyone's participation and look to VOTES as a model of how the classroom truly can be a showcase for our highest ideals as a nation."

The active participation is seen in schools like James Clemens High School in Alabama, where students voted during the lunch hour and earned voting stickers for casting a mock ballot. Students also dressed as Obama and Romney for the big day.

The Scholastic Student Vote in October also predicted an Obama win with 51 percent of the vote, over 45 percent for Romney. The Scholastic poll, which includes votes from 150,000 students nationwide, has correctly predicted the outcome of the election every time since 1940, with the exception of 1948, when students selected Thomas Dewey over Harry Truman, and 1960, when students chose Richard Nixon over John F. Kennedy.
-