I have got about four pages of pictures. Tried to find some that show human expression, to this disaster.
http://www.flickr.com/photos/14581928@N05/with/8141577569/
Hurricane Sandy, Mantoloking Rd., Brick, NJ
H

urricane Sandy view from Mantoloking Rd. Brick, 10/31
By http://www.flickr.com/photos/dansflickpics/
Hurricane Sandy shows up in Hoboken NJ. Winds and rain are starting to pickup.
New York City
Taken on Oct 31. Two days after Hurricane Sandy. Shot from Hoboken NJ. HDR, 19 frames stitched in Photoshop CS5.
By Talk Radio News Service
sandy-manhattanfrom-brooklyn-bridge
Photo by Dan Patterson
Governor Chris Christie talks with first responders from Avalon Fire Department while surveying Hurricane Sandy damage in Avalon, N.J. on Tuesday, Oct. 30, 2012. (Governor's Office/Tim Larsen)
A homeless woman packs her belongings under the heavy rain on a street in downtown Washington DC, October 29, 2012. Hurricane Sandy intensified as it roared toward the US East Coast, bringing New York, Washington and other major cities to a virtual standstill, amid warnings of life-threatening floods. TOPSHOTS / AFP PHOTO / MLADEN ANTONOV
NEW YORK, NY - OCTOBER 29: A fire fighter speaks to a colleague while cleaning up damage caused by Hurricane Sandy on October 29, 2012 in New York, United States. Hurricane Sandy, which threatens 50 million people in the eastern third of the U.S., is expected to bring days of rain, high winds and possibly heavy snow. New York Governor Andrew Cuomo announced the closure of all New York City will bus, subway and commuter rail service as of Sunday evening Andrew Burton/Getty Images/AFP
The effects of Hurrican Sandy on Chicago's lake front.
This crazy bicyclist decided to bike down the path that is being hit by strong waves caused by hurricane Sandy.
These geese weren't trying to land in front of me but the wind due to hurricane Sandy kept them from flying too far ahead.
The remnants of Hurricane Sandy blew through Chicago this afternoon. Some waves were big; some were huge; and a few were truly massive. I'm pretty sure that this one falls in the last category.
I wasn't the only one out there trying to get pictures of the massive waves. This brave young photographer was apparently working on a new photographic genre: macro storm photography.
My thoughts are with everyone who is struggling to recover from Hurricane Sandy.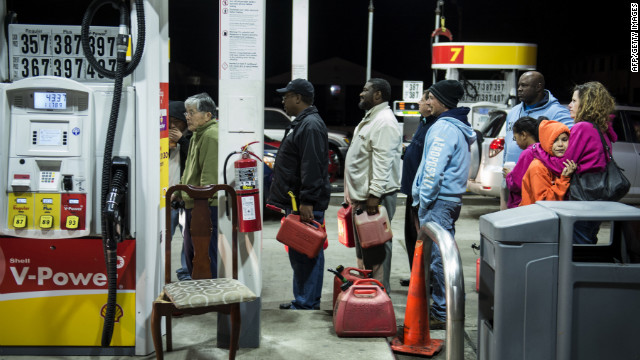 People wait in line to fill containers with gas at a Shell station in Edison, New Jersey, on Tuesday. Superstorm Sandy left much of Bergen County flooded and without power.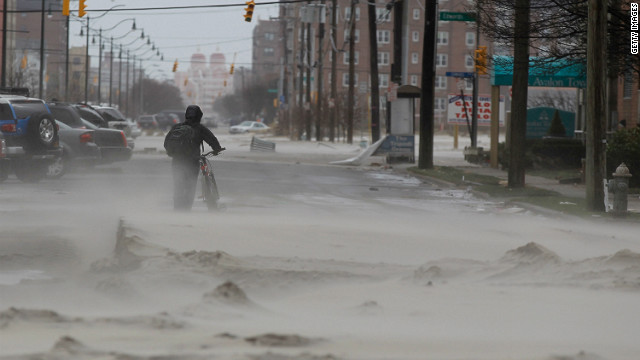 A resident walks down a street covered in beach sand due to flooding from Hurricane Sandy in Long Beach, New York on Tuesday.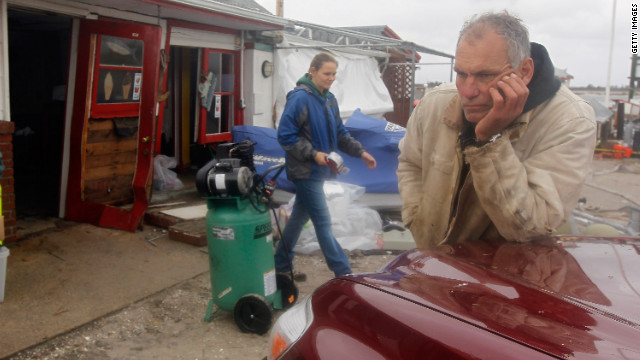 Ted Wondsel, owner of Ted's Fishing Station in Long Beach, assesses the damage to his business Tuesday.