A Marriage proposal at the RNC. How sweet!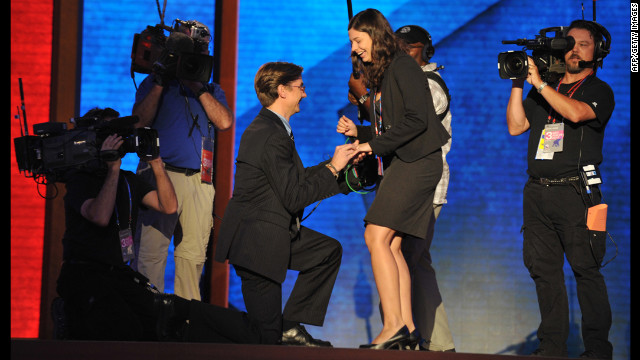 Bradley Thompson kneels down to propose to Laura Bowman, who accepted, on the stage.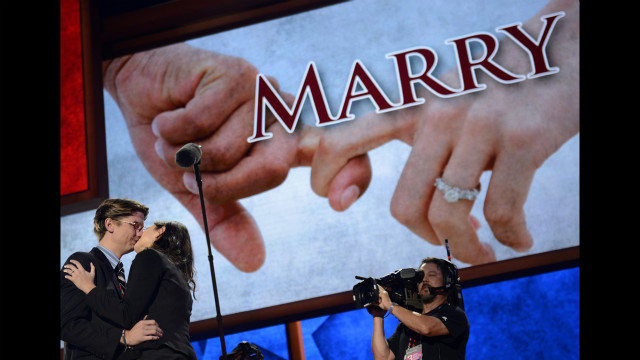 updated 10:12am Thursday 8/30/12
Forget a beach at sunset or the site of their first date. Bradley Thomson had a much more romantic setting in mind when he proposed to his girlfriend of two years — the Republican National Convention.
Thomson, 32, proposed to fellow RNC staffer Laura Bowman, 27, on the convention stage in Tampa, Fla., on Wednesday morning. To get her on stage, Thomson, who is a production manager for the RNC, told Bowman that he needed help because of a sound problem.
The screens behind the stage them featured pictures of the couple, and Thomson had rigged the monitors to display the words "Laura Bowman will you marry me?" Thomson got down on one knee with a Jack Johnson song playing in the background, and Bowman happily accepted. The two then shared a kiss as the crowd cheered.
"I thought there was something fishy when he said that there was a sound problem, because there never is," Bowman told the Associated Press.
"I thought it would be cute and it's a really good palette to use to do it," Thomson told AP.
Thomson went to Tampa with the ring, but had not mapped out how he was going to deliver it.
"I knew coming down here that I would probably propose, and it was just a work in progress," Thomson said.
"I had known it would be coming at some point and then I told him that I didn't want to know the details," Bowman said.
The couple has dated for two years and met in New York, according to the AP. They live in Brooklyn and work in theater production.
"Congrats to the lovely couple who got engaged on the convention stage today!" tweeted RNC chairman Reince Priebus.
Laura Bowman accepts Bradley Thompson's proposal on the stage. Thompson is a production manager and Bowman is a production coordinator for the convention. Bradley Thompson kneels down to propose to Laura Bowman, who accepted, on the stage.