$5.5 billion Postal Service default won't stop the mail
Erik S. Lesser / EPA
Letter carrier Letonya Lawson makes her deliveries in Avondale Estates, Ga., this week. Despite a default, no interruption in postal service is expected.
Neither rain, nor heat, nor gloom of night -- nor, apparently, a $5.5 billion default -- will keep the U.S. Postal Service from moving the mail.
The agency confirmed Wednesday that it has defaulted on a payment, mandated by Congress, to a health benefit trust
fund
managed by the Treasury. The agency said it will miss a similar payment due Sept. 30.
The default will have "no material effect" on its operations, according to a Postal Service spokesman.
"We will continue to deliver the mail, pay our employees and suppliers and meet our other
financial
obligations," the spokesman said.
Those losses are almost entirely the result of the now-defaulted "pre-funding" requirement for retiree health insurance and other accounting charges, according to Ron Bloom, an
investment
adviser at Lazard who has advised the Postal Service on restructuring.The default is a milestone in the long-running political dance between Congress and Postal Service managers over how to finance the delivery of mail to 151 million addresses, nearly 40 percent of the world's "snail mail" volume. Though its Capitol Hill critics complain that
Postal Service
should be made to operate "more like a business," Congress has created a set of rules that all but guarantee billion-dollar losses.
"No other company in America, public or private, has that obligation," he said. "The Postal Service is losing about $75 million a month from delivering the mail. That's a problem, but a different problem than the billions we hear about. If we raise the price of a stamp by half a penny, they would be breaking even."
The Postal Service faces other constraints. It is banned from setting up retail outlets, for example, that could generate profits to help subsidize delivery costs. Worse, it is barred by Congress from charging the full cost of providing the service it is required to deliver.
"On the one side, (Congress) says, 'We want to you deliver a letter from the corner of Alaska to the far corner of Hawaii and we want to you do it for 45 cents,' which has nothing to do with the price of what it takes to get there," said Bloom. "On the other hand, (Congress) says, 'We want to you break even.'"
Beyond the crushing burden of
prefunding
benefits, the Postal Service is grappling with a long-term decline in the volume of first-class mail -- 4 to 5 percent year -- as more communication shifts to the Internet. It's not unlike a transition in the 1970s, when the decline of railroads forced the Postal Service to develop a new infrastructure of
sorting
facilities, part of the reason Congress chose to establish the service as an independently funded agency, according to Robert John, a Columbia Journalism School professor who has written about the history of the service.
"They built these large sorting centers that made it possible to distribute first-class mail in a day or two," he said. "That's one of the ways they could save money. They could no longer use all the facilities that they built out. Do we, as a matter of policy, need to get catalogs, advertising -- so-called junk mail -- in one day? Could we get it in three days? But then what about Social Security checks?"
That means looming Postal Service cutbacks could create economic hardships for those carriers -- and the thousands of small businesses that depend on them. As revenues from first-class letters have declined, the volume of package deliveries has grown. Though it competes with private delivery services like UPS and FedEx, those carriers don't deliver to remote areas that are less profitable. So they contract with the Postal Service to get the job done.
"If I were at Fed Ex, I would be extremely worried about the situation," said John. "It's bad news for small business and it's bad news
to
the American economy."
More recently, Congress has sidelined the Postal Service's efforts to cut costs. The agency this year unveiled a five-year plan to reach profitability that, in addition to closing low-volume facilities, would cut Saturday delivery and eliminate the requirement to
prefund
employee benefits.
In April, the Senate approved an $11 billion cash infusion to avert a default, but delayed many of the proposed cuts for at least a year. The House is deadlocked on a bill calling for deeper cuts, in part due to opposition from lawmakers from rural districts where the cuts would hit hardest.
Congress has come to the financial rescue repeatedly in the past, said John, and he thinks it's likely that lawmakers will do so again. The political fallout from inconveniencing millions of voters in sparsely populated areas will likely override philosophical opposition to what the agency's critics see as a "bailout."
"I would think that congressmen, who for principled reasons are opposed to government intervention and who happen to represent rural districts, are going to be like a Christian Scientist with appendicitis when it comes to privatizing the post office."
Even if Congress acts this year, which isn't expected, the projected annual savings of $2.1 billion wouldn't kick in until late 2014. The Postal Service has projected a record $14.1 billion loss for this year.
While some cuts seem inevitable, Bloom cautions that they could end up doing more harm than good.
"Clearly, you've got to right-size the network because first-class is in long-term decline," he said. "But the problem with all network companies is if you cut the network too fast, you accelerate the very problem you're trying to fix."
As U.S. Postal Service Faces Default, Critics See Manufactured Crisis to Speed Up Privatization 123


Postal Service could run out of cash in October
@CNNMoney
August 2, 2012: 8:11 AM ET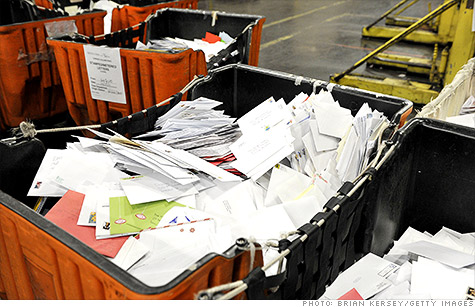 The Postal Service could run out of cash in October.
WASHINGTON (CNNMoney) -- Without help from Congress, the Postal Service will not only default on payments for retiree health care benefits, but it could lack cash for operations by mid-October.
As of midnight Wednesday, the Postal Service was in
default
-- for the first time in its history -- on a $5.5 billion payment owed the federal government to prepay health care benefits for retirees.1223
While the Postal Service is in big financial trouble due to fewer people sending mail and the mandate to prepay retiree benefits, the default is largely symbolic. The agency will skip that payment and another $5.6 billion payment due Sept. 30, while continuing to pay employees and contractors to deliver the mail on time.
However, by Oct. 15, the
agency's cash crunch
could result in a $100 million shortfall, according to David C. Williams, the service's inspector general.
"We concur with the Postal Service's projections that it might not have sufficient cash to fund its operations in October 2012 and at other times during Fiscal Year 2013," Williams wrote in a July 25 memo.
The timing is significant, because experts don't expect Congress to make much headway on saving the Postal Service until after the November election. While the Senate
passed a bill in April
, the House has yet to take up its version.
If the Postal Service runs out of money in October, it may be brief, according to the service and the inspector general's office. The service is expecting an uptick in mail volume and revenue thanks to the 2012 presidential election and the holiday season to help make ends meet.
But if election and holiday mail don't come through, financial shortfalls could be worse, the inspector general warns.
The Postal Service has a back-up plan to conserve cash so it'll be able to deliver mail on time and keep the lights on at post offices. It would skip paying into the federal retirement system and would skimp on workers compensation payments due to the Department of Labor.
Stiffing the retirement system wouldn't be so bad, since the Postal Service has overpaid that program to the tune of $11.4 billion. Both bills in Congress would allow the service to recoup that money in order to pay off other debts, including a
$12.7 billion loan from Treasury
.
But short-changing the workers' compensation payments could have consequences, the inspector general warned. The Department of Labor may not have enough in reserve for its program, which compensates federal employees who have been injured on the job.
Postal Service Chief Financial Officer Stephen J. Masse said officials hadn't made a decision about whether to take any "extraordinary cash preservation measures" and would monitor the cash situation.
Postal watchers expect the House to take up a bill authored by Rep. Darrell Issa, a California Republican, after Nov. 6. If the bill passes, then the two chambers would meet to resolve differences between the bills.
"They're not going to be doing anything other than posturing before the election," said Anthony Conway, executive director of the Alliance of Nonprofit Mailers. "While I think Issa has the votes, it's a tough vote to take right before the election."
Conway says he expects Congress will eventually step up and rescue the Postal Service before the agency is forced to contemplate the kind of insolvency that would prevent workers from being paid.